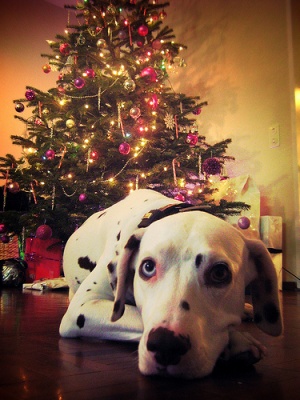 There's no need to introduce the severity or dangers involved with pet obesity. More than ever it's a problem that's taken on a life of its own following increased conversation and awareness over the last few years. And with the overall obesity epidemic joining in as a much-debated topic for humans, it's no wonder why we're also giving plenty of attention towards our furry little loved ones. Simply put, it's important to find remedies for pet obesity, especially during the holidays when we tend to overfeed ourselves as well as our pets.
FlexPet, the all-natural joint nutrition vitamin that helps dogs and pets address joint discomfort and increase overall joint mobility knows all too well the perils of holidays and pet obesity. Each year FlexPet receives its highest percentage of inquiries immediately following the holidays from pet owners whose dogs enjoyed too much holiday table fare. The pets become sedentary from the extra food, which leads to less movement and exercise and placing strain on joints and mobility.
The problems begin when pet owners overfeed their dogs and pets. From there begins a dangerous downward spiral that ends with painful joint discomfort and arthritis. Pet obesity is at the center of it all. The more pets eat the less inclined they are to feel like exercising. And while all of this can impact a human body over the course of months or even years, pets' bodies are much smaller and feel more of an impact in a shorter amount of time.
In addition to FlexPet, which works as a lubricant on the joints to increase overall joint mobility, there are many other solutions to help your pet get back on its paws, without feeling too much pain.
PetFinder.com is a large network of animal welfare organizations and represents more than 356,000 adoptable pets. The organization works with over 13,000 shelter partners throughout North America to help find happy homes for pets. Keeping pets fit and trim has been a key to its success as the network has helped find happy homes for more than 16 million pets to date. The organization also prides itself on offering remedies for pet obesity during the holidays in the form of education and information.
"In our view, keeping pets mentally active is just as important and in many ways is a great complimentary way to staying fit," said Betsy Banks Saul, co-founder of PetFinder.com. PetFinder.com offers an entire lineup of wonderful dog training videos to help keep your pet mentally sharp. In addition, PetFinder.com also offers plenty of pet obesity education for owners who wish to read up on how to help their pets maintain an appropriate diet.
Getting your pet to go for a walk is not as hard as you think. And Sandy Duvall, CEO of TheShabbyDog.com believes there's no reason why all dogs can't get a good workout. In fact, Sandy also believes that a person paired with a dog makes for a great workout for both! After all, arthritis and joint pain plague humans and pets alike, therefore it only makes sense for humans and pets to work together to beat the debilitating disease. Sandy's got a product that can do just that. Enter the Pupercise, an adjustable and stylish hands-free method of taking your dog for a walk or run. With the Pupercise, everyone can have fun exercising with their dog and look good doing so.
"Pet obesity is something everyone can work to overcome," says Sandy. "As with all kinds of fitness, the key is to find a way to have fun exercising, and that's what we focused on when we came up with Pupercise."
Related articles: