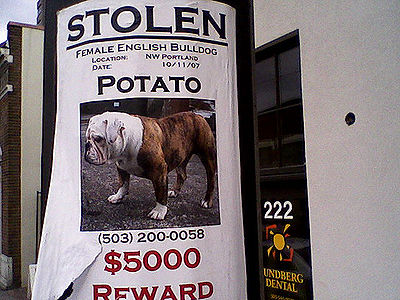 Dogs are stolen for different reasons – in order to claim a reward for safe return, to be sold on to buyers who don't care where their dog came from, and some may be stolen to use as breeding stock. Like car thieves, dog-nappers tend to target specific types of dogs. Fashionable breeds e.g. Chihuahuas are popular as are the bull-terriers, especially Staffy-types.
Some thieves might pretend to be prospective buyers of puppies that have been advertised for sale. Breeders should be cautious of home visits by potential buyers. They should ask for detailed information before allowing them into their house (and why not note down their phone numbers and car registration too, just in case).
Once a dog has been taken, the thief may wait for a reward to be posted before contacting the dog´s owner and offering to return the dog. This may be done under the guise that they bought it from someone else and want to be compensated for the fee they paid. In cases such as this it is advisable to contact your local police before making arrangements.
Here are a few simple rules that might help stop your dog being taken:-
Never leave your dog unattended – tied up outside a shop or restaurant, or left in the car, even if it is locked (and cars can easily overheat).
Keep gates and doors to your home locked – even "guard" dogs get stolen!
Protect your dog by making sure he is wearing ID tags and has a microchip. (A microchip is a permanent form of ID that is slightly larger than a grain of rice and is placed just under the skin by a vet. It is encoded with an unalterable code that can be read with a scanner. This is one of the best ways to identify your pet and make it more likely to be recovered).
When you take your dog for a walk, be extra vigilant when you let it off the lead. Train it to return to you quickly.
Be aware of people watching you or your dog; stay in well-lit areas and keep a mobile phone handy.
If someone approaches you to ask about your dog ask yourself if they are just being friendly or could they have a more sinister motive? Don't boast about your dogs value or divulge other details, especially not where you live.
A neutered dog is less valuable – (with so many unwanted dogs in rescue shelters, why isn't your dog neutered?!).
If buying a dog be careful and responsible – could you be buying stolen goods? Ask for some proof of ownership, e.g. registration papers, veterinary records or microchip registration.
If your dog has been stolen, post fliers with a current photo of the dog throughout your neighborhood and at local pet businesses such as vets, pet stores, groomers and training schools.
Remember too that a dog might have simply run off, or have been dumped, so contact the local council dog wardens, local rescue centers and the police, to inform them as to what has happened and ask them "who in your area might take in a stray?"
Related Articles