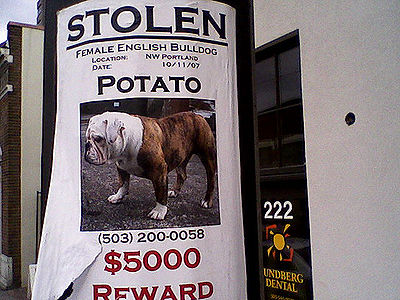 The American Kennel Club (AKC) reported last year (2011) that pet theft rose 32% since 2007 when they began tracking petnapping.
In New York City, the homebase of the ASPCA, they report that dognapping in particular rises every summer. Pet parents take advantage of the nice weather to walk their dogs more often, taking them to dog parks where they can play off-leash. Pet parents also combine dog walking with running errands, usually leaving their dogs tied up outside of shops.
Here are some suggestions from the ASPCA to help you and your pet avoid becoming victims of this crime.
When running errands, shop at pet-friendly stores – those that allow your pet to accompany you. Otherwise, please leave your pet at home indoors. Leaving your pet tied outside a store exposes him/her not only to theft, but teasing and possibly escaping and getting injured or killed.
In off-leash areas, keep a close watch on your dog to avoid a criminal stealing him/her.
If your yard is easily accessible, especially a front of house yard, don't leave your dog unattended.
Have your pet microchipped making identification easier.
And never, ever leave your pet alone in a car even for a few minutes.
Related Articles