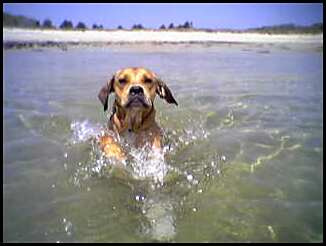 The hot days of summer are here and what better way to cool off than spending time at your favorite watering hole – the beach, a pool, the lake, on a boat. And of course you want to take your 4-legged pal along to join in the fun.
But not all dogs know how to swim and some are really afraid of the water. As with all new experiences, it's a good idea to take a test run to make sure your dog knows how to swim. If not, don't give up, swimming is something you can teach your dog, just take it slowly. Never use force such as throwing your dog in the water – a sure way to frighten him/her for life. Chances are your dog will want to be wherever you are, so take the precaution of teaching him/her to swim.
Before leading your dog to water, purchase a life jacket or flotation vest. They are available to fit any size dog. Leash your dog and use the vest/jacket if necessary. Find a quiet, shallow area of water with little or no distractions to start lessons. Have a bunch of your dog's favorite treats along so that you can encourage going in the water. You can make a trail of treats to the water's edge or hand feed them as your dog follows you.
Once your dog is comfortable in shallow water, gradually take him/her out to a point where s/he must paddle to stay afloat. It's important for the dog to use all 4 legs, so if your dog needs assistance, place an arm under the belly for support. When your dog is paddling using all 4 legs, release your arm. If your dog panics, return to shallow water. Wait until s/he calms down and try the lesson again.
Dogs generally lose interest after a while, so limit lessons to about a half hour. When swim lessons are over, lead your dog out of the water, teaching him/her the safest way to shore or into the boat.
Rinse the dog's coat well to rid it of any pool chemicals, lake debris or brine from the ocean. Repeat the lessons as often as necessary remembering patience and positive training always pays off.
If your dog is still energetic after the swim lesson, offer some happy playtime. Don't forget to lavish praise for a job well done and add some treats so that your dog will associate the experience with a positive time.
NEVER, NEVER leave your dog unattended in the water, no matter how good a swimmer s/he may be.
Related Articles