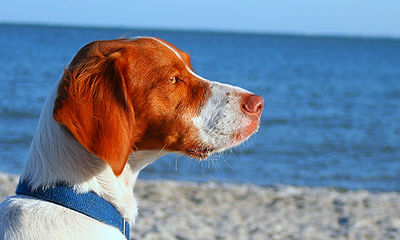 Dogs love to run and swim so the beach is a great location for a fun day with your dog. Here's some advice about how to get the most out of a day at the beach:
Before you set out, check that the beach you are going to allows dogs, as not all beaches do. Find out what the regulations are at the beach. Some beaches require that dogs remain on a leash at all times. Go to a beach where the dogs are off leashes only if you are sure of your dog's behavior and your ability to control him.
Protect your pet from the sun with products made especially for dogs.
Beware of heatstroke. Bring along plenty of water and don't let your dog overexert himself. Bring an umbrella to provide him with some shade.
Provide your dog with a waterproof collar with your cellphone number printed on it. If he gets separated from you, he can easily be returned to you.
In the water, beware of undercurrents and rip tides. Don't let your dog in the water if there are jellyfish in it.
When taking a dog to the beach for the first time, start out in the shallow water and coax him slowly into deeper water. Always stay within his reach.
Keep your dog away from sharp objects, dead fish and other items washed up on the beach.
At the end of the excursion, make sure to wash the sea water off your dog's fur.
Video