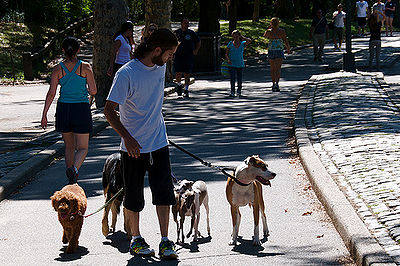 In choosing a dog walker/pet sitter, you are entrusting your beloved pet to someone else. It's important to choose the right one for you and your pet.
You can find a dog walker/pet sitter by asking your vet, through the recommendation of a friend, the humane society, pet rescue organizations or your dog trainer. Check with recommendations of the National Association of Pet Sitters for accredited dog walkers/pet sitters that are experienced, have taken courses in pet care and are ethical.
When you've chosen 2 or 3 promising candidates, it's time to interview them. Here are some questions you should ask.
Will my dog be walked alone or with other dogs? Of course, the choice is yours. If you prefer to have your dog walked alone, you can request this.
Is there liability insurance in case of an accident?
What experience/training do you have in dog walking/pet sitting?
Will you be my dog's walker all the time? Of course, again, the choice is yours. You can request the same person all the time.
Do you have a particular veterinarian you use?
Is there a contract stating specifics?
Where will the key to my house be kept?
How often will my dog be walked?
What are the charges for services?
Will quality playtime, food and water be provided?
Do they collect your mail, water plants?
Will they babysit your pet?
What is the backup plan if the dog walker/pet sitter can't come?
If your dog takes medication, ask if the dog walker can administer it?
Does the walker/sitter have access to transportation in the event of an emergency?
Have the dog walker/pet sitter come to your house and meet your pet. Watch the interaction and check if your pet likes her.
You might want to monitor the dog walker the first couple of outings.
If you plan a vacation, leave your pet the first time for a short period, perhaps overnight or a weekend. The pet sitter can advise you of how things are.
There are things you need to do to help your dog walker/pet sitter take good care of your pet.
Make sure your pet is well socialized.
Have current vaccinations and tags.
Leave written, detailed instructions.
Your dog walker/pet sitter should have the name and telephone number of your veterinarian.
Leave enough supplies such as food, treats, toys, etc. in a convenient place for your dog walker/pet sitter.
Have a neighbor keep an extra key and introduce your pet sitter and have them exchange telephone numbers.
Let your dog walker/pet sitter know any safety features in your home.
Give your dog walker/pet sitter information on how to reach you, telephone number and any other pertinent information.
Don't forget to keep your dog walker/pet sitter's telephone number handy wherever you go.
If you've done your homework, you can be confident leaving your pet.
Related Articles: