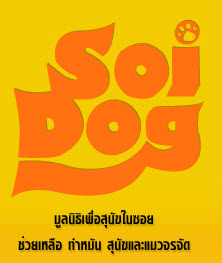 Located in Phuket, Thailand, the Soi Dog Foundation was created by Margot Homburg Park and retirees John and Gill Dalley. It is the only foundation of its kind registered with the Thai government. It is a fast growing international organization in Southeast Asia as well as Australia, Holland, France, the United Kingdom and the United States.
The main aim of the Foundation is to halt the over-population problem with dogs and cats through its most common service of spay/neuter.
The Soi Dog Foundation houses over 400 dogs and cats. Those living long term are microchipped and receive vaccinations for rabies, DHPP (distemper, hepatitis, parvovirus, parainfluenza) for dogs and FVRCP (Feline Viral Rhinotracheitis, calicivirus, panleukopenia) for cats.
Thanks to the efforts of the organization, Phuket is the only Thai province with the status of being rabies-free.
In 2011, the Soi Foundation instituted a "Trade of Shame" campaign to halt the illegal dog meat trade that is carried on between Thailand and Vietnam. Dogs are taken from the streets or stolen from owners. This horrific meat trade involves the inhumane treatment of dogs. In the 2 years of the campaign more than 7,000 dogs have been rescued from the meat trade and more than 30 smugglers arrested.
Eating dog is not traditional in Thai culture, but a practiced trade.
The Soi Dog Foundation will be meeting with government officials of Thailand and Vietnam in June of 2013 to educate them not only on the cruelty of this practice but also on public health concerns. Rabies and other diseases in some infected dogs can be transmitted to humans and other animals making this a very dangerous trade.
International adoption is available through the Soi Dog Foundation. Contact them for further information and transportation through the Flight Volunteer program.
Donations in support of the Foundation may be made on the Soi Dog Foundation webpage, Trade of Shame.