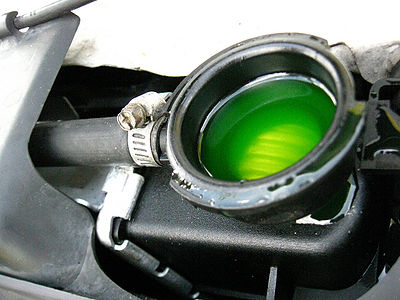 Autumn is here bringing with it the beautiful colors of foliage for us to enjoy.
But there is a very real danger to pets in this season.
As the weather changes, we prepare our homes and our cars for cold weather. One of those changes includes putting antifreeze in our cars.
Most antifreeze contains a sweet-tasting ingredient that pets find attractive. Ethylene Glycol is the name of the toxin.
Even walking through a puddle of antifreeze can be lethal if your pet then licks its paws. Only a small amount can poison your pet. The chemical causes kidney failure. The effects of Ethylene Glycol are immediate and long-term, damaging liver and kidneys. Even if your pet shows no symptoms after a while, the damage is irreversible.
Besides antifreeze, Ethylene Glycol can be found in brake fluid, liquid rust inhibitors, products that prevent plumbing from freezing, hydraulic fluids, solar collectors. Always check labels for ingredients, especially of chemicals, so they can be used safely.
Symptoms of antifreeze ingestion are similar to alcohol intoxication, staggering, excessive thirst, vomiting, rapid breathing, rapid heartbeat, loss of energy, convulsions.
YOU MUST HAVE YOUR PET TREATED WITHIN A FEW HOURS OF INGESTION. IF YOU SUSPECT YOUR PET HAS SWALLOWED ANTIFREEZE, GET HIIM TO YOUR VET OR AN EMERGENCY CLINIC IMMEDIATELY.
The best way to avoid antifreeze poisoning is not to allow your pet in the garage. Keep your pets indoors when working on your car. Avoid walking close to garages where there might be some spills. Keep antifreeze stored where pets cannot reach it and dispose of empty containers safely. Thoroughly wash any spills.
There is a safer alternative – use non-toxic Propylene Glycol Antifreeze. But always use caution when dealing with chemicals.
Related Articles