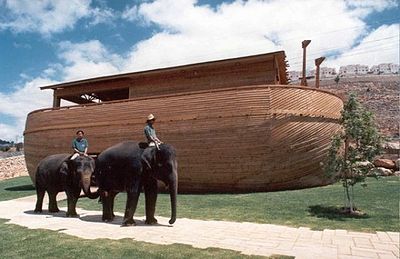 Was the biblical Noah the first conservationist? It certainly seems so since he saved all species (except the species which live in the sea) aboard his ark during the flood.
The Jerusalem Biblical Zoo created a visitor's center in the shape of Noah's ark, which according to the zoo's website, "was meant to symbolize the zoo's deep commitment to the cause of nature conservation, and to the cause of rescuing animal species threatened with extinction." A wildlife center in Gobabis, Namibia is named Noah's Ark in honor of Noah's conservation efforts. A number of other organizations which are involved in conservation have chosen to name themselves after the biblical Noah.
Some scientists, in an attempt to ascertain whether the Noah story could be true have tried to calculate the number of animals which had to be accommodated on the ark and calculate whether its size was sufficient. They also examined the question of how the eight humans on the ark were able to care for such a large number of animals.
Conservation in the Bible did not end with Noah. In fact, the Bible strongly supports conservation of animals and protection of natural resources. The land must be given a rest every seven years. Animal life must be treated with reverence. Cruelty to farm animals, destruction of wildlife and habitat, and pollution of our food, air, and water are all prohibited.