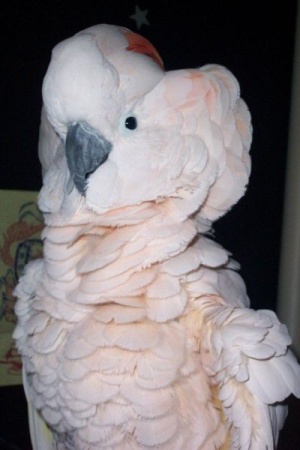 What is the native habitat of the Moluccan Cockatoo?
The Moluccan Cockatoo is a native of Seram and other islands in eastern Indonesia, also known as the Maluccin, Malukel or Spice Islands. It is an endangered species. Captive bred birds are legal with approciate CITES certification. While it cannot be imported to the U.S., the Moluccan is bred in captivity.
The Moluccan is a fairly large bird. Color is salmon pink.
The Moluccan is a pet for someone experienced with birds. They are very intelligent and will learn quickly, miming sounds as well as developing a large vocabulary. The cage needs a very secure lock as they soon learn to pick the lock. They will sometimes bond with only one family member and can be aggressive towards others. Their bites can be painful and this is not a pet for small children. They can be very affectionate with those they love. Moluccans require a lot of attention and will become destructive if bored. In choosing a Moluccan, opt for a young bird that has been hand-raised.
Moluccans eat fruits, nuts, vegetables and ground meat. Fresh water should always be available.
The Moluccan is best kept as a single bird.
DO NOT FEED ANY BIRD AVOCADOS AS THEY WILL CAUSE INSTANT DEATH!
Video