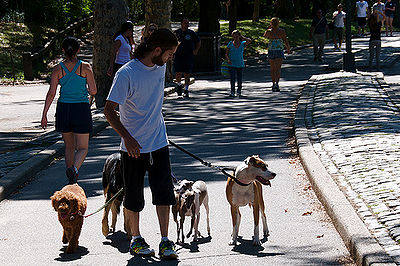 Some may not know all that a dog walker will do for you and your pet. In general, a dog walker is someone who will take your pet out for a walk whenever you cannot. Dog walkers usually take more than one dog for a walk at the same time, although you can specify that your pet receives preferential treatment. The dogs get exercise and will be walked according to their medical history, age, weight and other factors, as some dogs need more work out than others do.
It is important to ensure that your pet gets walks on a daily basis. Adequate work out and companionship will result in a happy and healthy life for your pup. We know your dog is a very important member of your family and your dog deserves the best in care, especially during those times when you cannot provide it for them. There might be several reasons in which you cannot take your dog for a walk. For example, you may be ill, be working long hours or need to leave town for a vacation. Luckily, a dog walker can handle the duties when you are not capable to do so.
Dog walkers usually come to your house at a certain time and take your dog out for a walk. Depending on your preference, they can come and go on their own or wait until you are at the house to let them in. Dog walkers will usually charge a reasonable amount for dog walking services. For those who may need a more experienced dog walker, you may have to pay more but it should still be within your budget. Dog walkers may also take care of other services such as grooming, bathing and more if you would like to avail yourself of these services, too.