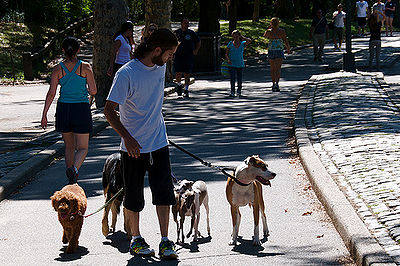 Those who have dogs agree that they are the best type of companion to have. These faithful pups offer friendship and keep us safe. The only things they ask for in return include the need to be loved, fed and well cared for overall. One of the ways we can say thanks to our dog is to make sure that they get the Dog walker opportunities they need and deserve. Here are some benefits which dog walking provides for your pet.
Benefits of Dog Walking
Dogs are unlike cats in many ways but especially in the way that they get restless when they are unable to get outside on a daily basis. They love to romp and play in the great outdoors and need to be walked frequently. There are many benefits to walking your dog. It allows them bathroom time, enables them to get fresh air, provides them with exercise and gives them sheer enjoyment and fun. With all of these benefits listed, it is easy to see why dog walking is a necessity.
Here's how to make dog walking more interesting for you and your pal.
Change the pace – try walking slowly, quickly, even jog a bit.
Alternate routes – it peaks interest to find new places to go walking and makes the trip more exciting for your dog and you too.
Take a walk with a friend and their dog. A change in routine is good sometimes.
Allow your dog to stop and take in all the smells and sounds.
Find a place to stop and rest during the walk. It's an opportunity to pet your pup and talk to him/her.
Increase your dog's vocabulary and attention by pointing to an object and naming it. Do this several times. You'll be amazed at how well your dog understands and remembers.
How to Ensure Our Dogs Get the Dog Walking Sessions They Need
Some pet owners work from home and are able to take their pet out whenever they need to do so. However, others may work full-time jobs and find that getting their dog out for frequent walks is a tough task, to say the least. In order to ensure that your pet gets outside and is able to do their daily bathroom duties, a dog walking professional can help. Dog walkers will come to your house, take your pet out for a certain period of time and then bring them back to you safe and sound. Dog walkers offer the solution which dog owners who work full-time need.
Dog walking can also be a great solution when you go on vacation or travel for business. You can also hire a pet sitter for these times.
Some dog walkers provide additional services such as grooming and bathing.
If you are looking for a dog walking solution when you are unable to walk your pup on your own, contact a dog walking service today.
Articles about dog walking: