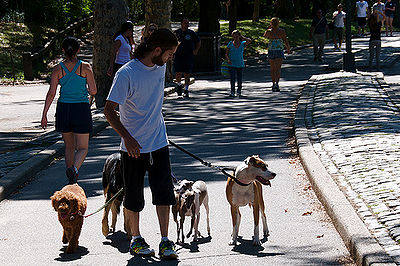 Dog walkers can be extremely helpful when it comes to maintaining your dog's health. By making use of a dog walker on a daily basis, you are giving your dog the opportunity to be healthy and also allowing them to get exercise and fresh air.
Why do we hire a dog walker?
We should make sure that we spend adequate time with our dogs and take it for regular walks. Dog walking keeps the dog fit, and us too. You should surely take your dog out on regular walks. Usually, dog walkers are hired when we pet owners cannot take our dogs out for a walk for one reason or another. We might be busy at work or we might simply not have the time. How long can one impose on neighbors or friends to take care of the dog? When we are unable to do the deed ourselves, we should opt for a dog walker. You should hire a dog walker in case you are not able to fulfill these needs of your dog and ensure that your dog leads a good and happy life.
How to go about hiring a dog walker?
Ensure that your dog walker is a reliable and trustworthy one who can always take care of your dog, especially in an emergency. There are many ways to find reliable dog walkers. You can always start the search on the Internet as this is going to be the easiest and cheapest process. You will have so many options to have a look at and you will have plenty of choices to compare and choose from. You can also ask your neighbors, friends, etc. who have dogs and may know about reliable dog walkers.
Now that you know the main concerns that people are flooded with, you can go about hiring your dog walkers with ease. You can also be sure that you are making the right decision when it comes to hiring a dog walker. There are so many people who get confused as to what to ask your dog walker and how to go about this process and hopefully this article will help you on your way.