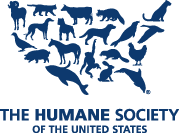 The HSUS has ranked states on their roles in animal welfare for 2011. Here are the results.
California comes in Number One. The state has enacted nearly a dozen new laws in 2011 for the welfare of animals. New Jersey and Oregon tied for 2nd place and Illinois and Massachusetts tied for 4th place.
The lowest scorers were South Dakota in last place, Idaho 49th, North Dakota and South Carolina tied for 48th and Mississippi came in at 47th place.
The HSUS tells us that Idaho and North and South Dakota are the only 3 states in the nation with no felony penalty for egregious acts of animal cruelty.
Alabama, Hawaii, Idaho, Kentucky, Mississippi, Ohio, South Carolina, South Dakota, Tennessee, Utah and West Virginia are the only states that do not have felony-level penalties for cockfighting.
On a brighter note, Ohio, Texas and Maryland have each ranked higher than the year before – Ohio for improved livestock laws, Texas for upgrading its anti-cockfighting laws and Maryland for strengthening its puppy mill laws.
If you would like to see your state's ranking, please go to HSUS online at "Find Out Where Your State Stands for Animals."
The HSUS will continue its fight to improve the welfare of all animals.