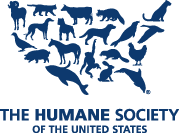 HSUS report on Safeway's elimination of gestation crate confinement for pigs.
Breaking News: Nation's Largest Grocery Chain Eliminating Gestation Crates
Posted: 04 Jun 2012 01:26 PM PDT
Forcing breeding pigs to live in narrow crates where they can't turn around for nearly their entire lives is simply indefensible. I'm pleased to report to you that a tipping point has been reached on this subject. The news today that Kroger—the nation's largest grocery chain—will work to eliminate gestation crate confinement of pigs from its pork supply chain provides even more evidence that there's no future for these crates in our country. Kroger's announcement comes on the heels of Safeway, the nation's second-largest grocery chain, announcing in May that it's eliminating gestation crates in its supply chain.
Just in 2012, there has been a cascade of other announcements toward ending this confinement. We've worked with the top three fast food chains (McDonald's, Wendy's, and Burger King) to announce that they're also eliminating gestation crates in their supply chains. Denny's is doing the same. We teamed up with Compass Group―the world's largest food service company, operating 10,000 dining facilities in the U.S.―to announce that it will eliminate gestation crates from its supply chain by 2017. And we partnered with Bon Appétit Management Company, another leading food service provider, to announce that it will be gestation crate-free within three years.
And two major producers―Smithfield last year, and Hormel this year―pledged to move to group housing systems for their company-owned operations by 2017. Another major producer, Cargill, is already 50 percent crate-free.
Clearly, these producers and these food retailers are trying to better align their business practices with their customers' values. According to polling and voter initiatives, opposition to gestation crates is solid in states across the nation.
Some state pork producer associations―such as those in Colorado, Michigan, and Ohio―have rightly recognized that they must adapt to the well-established public opposition, and they've supported state bills to phase out the crates. Kudos to them.
But there still is strong sentiment from diehards within the pork industry that they will defend the use of these crates to the bitter end. In fact, they even oppose progress for animal welfare in other industries. For instance, the National Pork Producers Council is working against the national egg industry and its efforts to provide a rational, scripted transition away from barren battery cages.
I believe the industry is doing brand damage by defending these inhumane confinement crates, and standing in the way of other animal welfare reforms.
It's so clear that even Pork Magazine editorialized to pork producers, "[O]n the issue of gestation-sow stalls, at least, it's increasingly apparent that you will lose the battle." And the agribusiness publication Meatingplace editorialized, "Game over. For any pork producer still on the fence, the McDonald's announcement makes the move inevitable, whether or not they are a McD's supplier."
So they don't have to listen to The HSUS. They just have listen to voices within their own industry and among their customers.