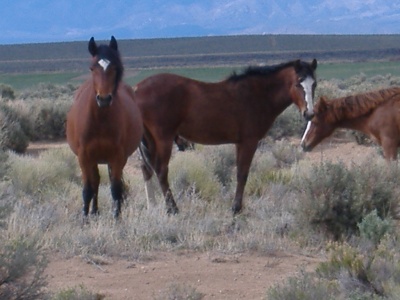 Wayne Pacelle of the Humane Society of the United States (HSUS) reminds us that the welfare of the feral (or as they are sometimes known, wild) horses and burros on federal lands is a major concern.
These animals are rounded up using helicopters and baiting them with water to lure them into a corral. This has proved to be very stressful and frightening to the horses.
There is a new way to control the population of these horses and burros called Capture/Treat/Release. Mares are humanely captured and treated with the immunocontraception vaccine PZP and then released back to the federal lands they came from.
The Bureau of Land Management (BLM) which treats and controls these herds is beginning to see the value of this type of management.
Mr. Pacelle further explains that "the HSUS has been conducting wildlife contraception research and we're confident PZP is a valuable tool for the humane and efficient management of wild horses."
Mares in an area called the Sand Wash Basin have been 82% successfully treated with PZP via remote delivery. A project such as this puts a minimum of stress on the herds while being able to manage them in a way that will preserve these wonderful symbols of the American West.
Related articles: