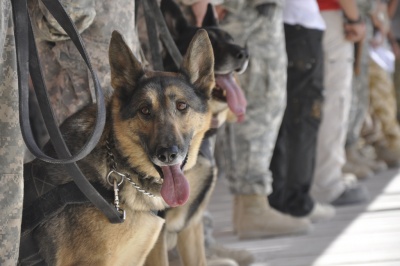 About 2,700 dogs serve in the armed forces. In Iraq and Afghanistan, 29 dogs have been reported killed in action.
Thanks to the efforts of paramedic Staff Sargeant Mark Joseloff of the Air National Guard, at least one dog was saved. Caring for a military dog that collapsed in 110 degree heat, Joseloff relied on his training in aiding humans and applied the same to the dog and helped him survive.
Realizing the need for training in canine medical assistance, Air Force Lt. Colonel Stephen Rush organized a program to train several rescuers including Sargeant Joseloff how to treat military dogs in combat settings.
The training was conducted by Long Island Veterinary Specialists, one of the most advanced veterinary hospitals in the U.S. along with K-9 Medic, a company that trains in emergency medical care for service dogs.
Military dogs, most of them German Shepherds, black Labrador Retrievers and Belgian Malinois are taught to sniff out bombs and detect booby-traps. While their monetary value is in the thousands of dollars, the emotional attachment that grows between handlers and dogs cannot be measured.
Medical treatment for dogs in the military and in war zones has improved tremendously since the Vietnam War when even first aid was not available.
Now, military dog handlers are trained in first aid and veterinarians are stationed in war zones. But since military paramedics are often first on the scene, their ability to give dogs the necessary medical attention is invaluable. These dogs who have been the unsung heroes for so long are finally being given the recognition they deserve and the status of war heroes.
Special thanks to our friend, Michael Storch, for bringing this news to our attention.
Related Articles