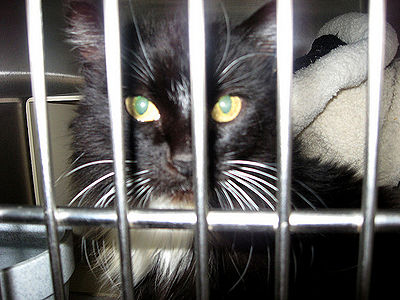 An animal shelter can be an overwhelming place. So many adorable cats are in need of a good home, so how do you choose the one that's right for you?
Examine prospective pets to make sure they look healthy. Their ears should be clean, nose shiny and without discharge and eyes clear and bright (also with no discharge). When holding a cat, pay attention to whether it is calm or squirming to be released. Place two or three cats on the floor and watch them interact with each other and see how they play.
Ask the attendants at the shelter why the cat was surrendered, to avoid adopting a cat who is aggressive and likes to bite and fight. Be open to adopting an older cat – although not as cute and cuddly as kittens, older cats will often already be trained. Consider bringing the entire family to the shelter to see how each family member bonds with the cat. Cats which are not put off by the energy of young children at the shelter will put up with it at home too.
Bring a cat carrier with you to the shelter, so that you can easily take the cat home. You don't want a scared cat running round freely in your car. It's a good idea to visit the vet immediately after adoption to check for any diseases. This is especially important if you have other cats at home, to avoid infecting them.
Remember, you may think that you are choosing a cat, but more often than not it's the cat choosing the human. Keep your eyes open for cats that respond to you and consider taking those home.