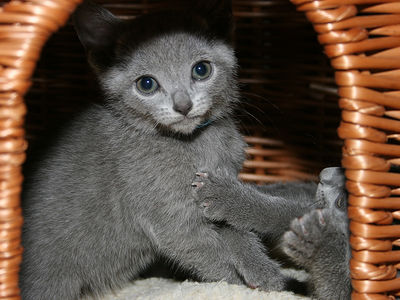 You've done your research and decided a certain breed of dog or cat fits your personality and lifestyle. Now it's time to search for a reputable breeder.
You can start by getting referrals from people you trust – a veterinarian, close friends, a trainer or breed organizations.
Then your are ready to visit and tour the breeder's facility.
Look for clean, well kept areas where the pets live. Are the pets raised at home or in kennels?
How knowledgeable is the breeder about the type of dog or cat s/he is raising?
Spend time with the puppy's or kitten's parents. Although all pets are individuals. this will give you an idea of what to expect of your pet's personality.
In the case of certain breeds, there can be hereditary diseases. Are the parents tested for them? Does the breeder offer certificates stating that the parents are free of genetic disorders?
Does the breeder question you as a potential owner to make sure you are compatible with the breed and are able to make the commitment to care for the dog or cat?
Check how often litters are available. Overbreeding can cause problems.
Do the pups and kittens get enough human interaction and socialization?
Are the pups and kittens given their first immunizations? Are they free of parasites?
Does the breeder belong to a local or national breed club and follow their rules?
A reputable breeder will always be there for you to offer support throughout the pet's life.
Beware of purchasing puppies from pet shops. Always ask the name of the breeder. Pet shop puppies often come from puppy mills and shouldn't be supported. It only encourages continued mistreatment of dogs.
Finally, consider adopting from breed specific rescue groups or even a shelter. Petfinder.com can match the breed that you are looking for, anywhere in the US. They may not have a pet's complete history, but most test for temperament and give complete medical care. Most have contracts that offer free spay/neuter when the pet is old enough.