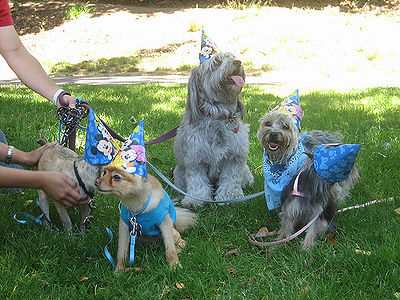 According to a recent survey, 36% of dog owners give their pets presents on their birthday, as do 20% of cat owners. Some pet owners even hold birthday parties for their pets. This can be especially fun for children who can be involved in the planning and running of the party.
Since pet owners don't always know their pet's date of birth, they often celebrate the day the animal became a part of the family as its "birthday."
How to throw a dog birthday party
If you have friends with dogs, plan an outdoor party and invite the dogs and their owners. Invite only dogs that get along well with each other and with your dog. Don't invite a new dog to the party; this may cause unnecessary friction.
If you don't want to host at home or in a park, some pet stores, dog bakeries and pet day cares will host birthday parties.
The dogs will need plenty of drinking water and doggie treats. You can even bake a dog birthday cake, but be careful not to overfeed the dogs as this will make them sick. Doggie treats can be ordered from a local dog bakery or online. Any onions or chocolate provided for the humans must be kept out of reach of the dogs.
Provide the dogs with games like frisbees, wading pools, balls or a dog obstacle course.
Don't forget to take pictures so you can remember your dog's special day!
How to throw a cat birthday party
Since cats are not as sociable as dogs, they will not welcome other cats at their party. The invitation list for a cat birthday should be limited to humans.
It is best to host the party at home or in your yard where your cat is most comfortable.
You can bake a special cat cake or you can open up a can of tuna and put a candle in the middle (but don't light it and take it out before the cat starts eating). Cats also really enjoy catnip and will love having it as a birthday treat.
Related articles: