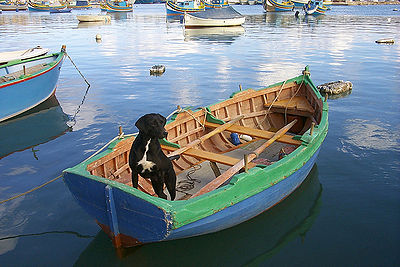 Lots of people enjoy boating these days and it's not unusual to see pets accompanying their humans on the water.
Boat shows even have dog competitions. The Seattle Boat Show tests dogs' water skills and awards the title "Super Boat Dog" to the winner.
Some breeds of dog take naturally to the water: Labrador Retrievers, Newfoundlands, Golden Retrievers, Portuguese Water Dogs are among those that like a romp on a boat and in the water. Surprisingly, there are cats that enjoy a boat ride as well, since they can be so attached to their humans and don't want to be left out of the fun.
In order to make that boat trip an enjoyable experience, here are some tips to help make everyone comfortable and safe.
First, your pet should be introduced to the boat when it's tied up at the dock. Your pet should gradually adapt to the boat movements and surroundings. While in dock, start the engine so that the noise won't frighten them. When you feel your pet is ready, take short trips around the harbor. Increase the trips to a day, overnight, etc.
Your cat won't enjoy this, but practice swimming with your dog. Have a platform or ladder attached to the boat for easy access. In case of accident, have a thick coiled rope at each corner of the boat, which makes it easier for a cat overboard to climb back on.
Pets can get seasick, so check with your veterinarian about which medications are suitable for your pet. Don't forget to take along any medications your pets might be taking at the time of the trip.
Sun and heat are more intense on the water and pets can suffer sunburn and heatstroke. Bring along plenty of fresh water. Cool your pets off periodically and make sure they have a cool place to rest.
Check your boat to clear any harmful materials that your pet can reach. Make sure to remove all toxins and batten down anything that could hurt your pet.
These days, there are many safety devices to help keep your pet out of harm's way such as doggie flotation devices. Safety vests are a must and should be brightly colored, fit firmly with handles in the middle of the back. Check that your pet won't slip and slide on slippery decks.
Pets need to relieve themselves while on a boat trip. Practice getting your pet used to relieving himself in the same area of the boat by teaching a command. You can use some astro-turf and/or a kitty litter box.
Take along some favorite toys and blankets for your pets. They could help relieve some of the stress your pet might feel.
Extremely important – your pet should be well-trained in obedience commands. It could save his life.
If you intend to stop at a port, always leash your pet. The last thing you want to do on a pleasure trip is having to search for a missing pet.
If you plan on visiting foreign ports, check the regulations for bringing pets there. Always have your pet's health and vaccination records with you when traveling.
You should be able to contact land while on the water. Give all information to a friend or relative so they can contact you as well. Your pet should wear a collar with ID and have a microchip implant.
Before setting out, have practice drills in case of emergency. It's always a good idea to be prepared for any event.
A small dog or cat can be put between your legs when you go kayaking. In this case, you shouldn't need a litter box if you make sure that your pet has relieved itself before the paddle. It's also possible to go and take a larger dog (as large as a German Shepeard) on board a canoe, but not a kayak.
Make a checklist of all you have to do to keep your pet and you safe on the water. Once all precautions are taken, have a great time.
Happy Sailing!
Video