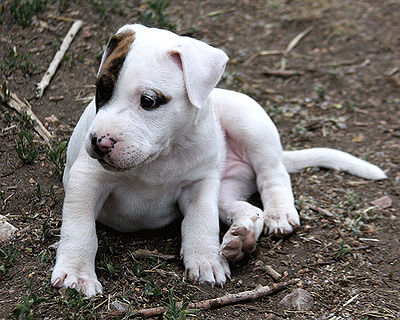 The ASPCA's spay/neuter initiative named "Operation Pit" has been a resounding success serving almost 600 dogs in its first year.
Dr. Louise Murray, ASPCA Vice President of the Bergh Memorial Animal Hospital in New York City, tells us that pit bulls, who have larger litters than most dogs, were not often being brought to the hospital for spay/neuter. Dr. Murray decided to create "Operation Pit" to encourage owners to bring their dogs for free spay/neuter or vasectomy.
The program offers Pit bulls and Pit mixes between the ages of 3 months to 6 years, free spay/neuter. They receive a free physical examination, free distemper/parvovirus vaccinations and a microchip. Each doggie participant receives a camouflage bandana and "Honorable Discharge" papers as well. The operation is not limited by income or address.
In order to end the euthanasia of adoptable animals, the ASPCA has 5 Mobile Spay/Neuter Clinics traveling mainly to neighborhoods in New York where there is limited access to veterinary care and animal care education. The mobile service provides free and low-cost spay/neuter. For those on public assistance, costs are $10 for cats, $20 for dogs, free for pit bulls and pit mixes. Otherwise fees are $125 for cats or dogs and free for pit bulls and pit mixes.
There is a choice of other services included in the spay/neuter fees: rabies vaccinations; cat and dog vaccinations to animals being spayed/neutered; nail trim and a tattoo near the incision cite. Microchips are $20 per animal.
Participation in Operation Pit is by appointment only on Tuesdays and Thursdays. Call for an appointment at 877-900-PITS.
We hope that more communities will join in by offering free or low-cost spay/neuter to all dogs and cats.