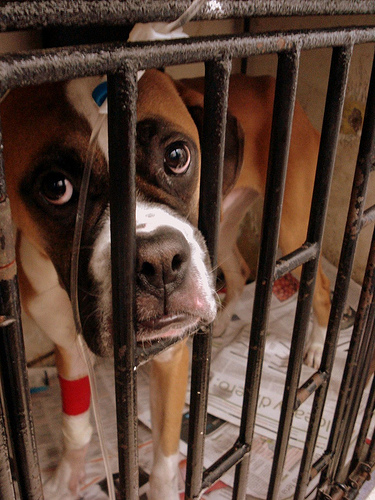 Colorado State University Animal Cancer Center has been conducting a study using Liposomal Clodronate, a biophosphonate for treating canine cancer.
Immune cells called macrophages normally clear the body of debris, bacteria and foreign bodies. Recent studies suggest that these cells may play a role in promoting tumor growth and metastasis (spread) of cancer. Macrophages may also contribute to tumor cells becoming resistant to chemotherapy. The study is investigating the effectiveness of Liposomal Clodronate, a cancer drug, in removing transitory microphages from the body.
Biophosphonates are a class of drugs that prevent loss of bone mass in certain diseases such as osteoporosis. In cancer, biophosphonates may reduce metastasis to bones and when cancer has spread to bones, may prevent fracture, promote healing and reduce pain.
In combination with another drug, CCNU, two dogs treated first with Liposomal Clodronate followed by CCNU, showed dramatic improvement. Both dogs were suffering with a form of cancer called Malignant Histiocytosis (MH).
Liposomal Clodronate reaches the body with liposomes, tiny, spherical particles of lipids, compounds that contain fats or oils.
For information on the study, please contact Colorado State University at 970-297-4195.