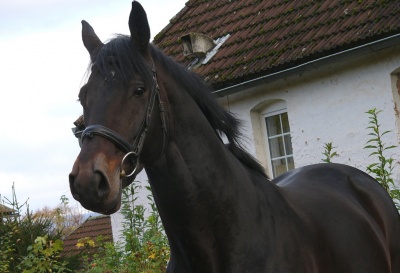 Anna Sewell, the author of Black Beauty, wrote the novel in order "to induce kindness, sympathy, and an understanding treatment of horses."
Sewell was born in Norfolk, England, in 1820. At the age of 14, she injured both her ankles and was never able to walk properly again. She frequently got around by driving horse-drawn carriages. Between 1871-1877, she was confined to her home due to illness. During that time she wrote the novel Black Beauty. It became a bestseller immediately upon publication in 1877. Anna Sewell died five months later.
Although today Black Beauty is considered a children's novel, that was not the intention of the author. Sewell was influenced by an essay she read by Horace Bushnell, an American clergyman and theologian. She pointed out certain cruel practices which were in use at the time amongst taxicab drivers. She protested against the use of blinders and against the use of checkreins, which kept the horses' heads high. Through the first-person account of the life of a horse, Sewell objected to the high license fees and low fares which led drivers to skimp on basic care for their horses in order to make ends meet. Soon after the publication of the book, the license fees were reduced.
Black Beauty has not lost its luster; it has been made into movies and television series several times and is still read by children around the world.
Video