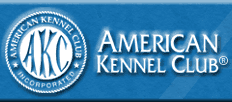 The American Kennel Club (AKC) is a registry of purebred dog pedigrees in the United States. It also promotes and sanctions events for purebred dogs, including the Westminster Dog Show, the National Dog Show, and the AKC/Eukanuba National Championship.
The American Kennel Club was formed in 1884. In 1887, the first office was opened, in New York City. The earliest dog shows followed the same rules as the English shows, but changes were introduced gradually. The American Kennel Club Museum of the Dog was founded by the AKC in 1982. Five years later it moved to its present location in St. Louis, Missouri. Agility competitions were added in the 90s and some of the organization's offices moved to Raleigh, North Carolina.
The AKC lobbies the U.S. government to combat legislation banning bully breeds, breed-limit restrictions and anti-puppy mill legislation. According to the AKC, its goal is to protect the dog-breeding industry. The club has been criticized for its stance on these issues, as well as for being more concerned with the physical appearance of dogs than with their physical and emotional health. On the other hand, the American Kennel Club and its sponsors have named February as Responsible Pet Owners Days.