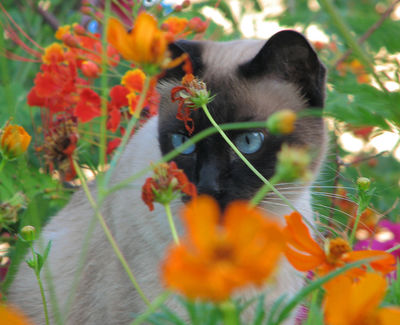 If spring isn't here for you yet, it will be very soon. We want to remind you about keeping your pets safe during the season.
During warm weather we tend to open windows and doors. It's time to put up screens for both to keep our pets from running outdoors unattended. If you live in an apartment house with an attached porch, keep a barrier in place so pets can't accidentally fall off. Have your pets chipped and keep tags on collars up-to-date with any new information.
The urge to clean is upon us, but remember our pets. Try to use "green" cleaners. Supermarket shelves are filled with a variety of safe cleaners. Plain old vinegar, baking soda and a bit of dish washing liquid will thoroughly clean almost anything. Some elbow grease and steel wool works well on the oven.
Make sure the garage is cleared of anything that can harm pets. Even a small amount of antifreeze is toxic to pets. Keep antifreeze well out of reach of pets and make sure the floor area is clean.
Many of us are ready to prepare our gardens, clearing out weeds, sprucing up existing plants and adding new ones. Again, there are "green" products available that are non-toxic to our pets. If the weeds haven't quite taken hold, try corn gluten meal or spray them with vinegar. Use the old-fashioned method of pulling out weeds by hand. Diatomaceous earth helps keeps bugs away – use the type non-toxic to pets if they ingest it. When purchasing plants, consider only ones that are not poisonous to pets. Don't leave any pesticides or tools around that can be harmful to pets. Check fences for security and any protruding nails or hooks that pets can get caught on.
At Easter time, keep baskets and trimmings away from pets. If you are considering getting a rabbit, remember that a pet is a commitment for a number of years. Before purchasing any pet, are you ready to make that commitment? If not, go chocolate! Chocolate bunnies are an excellent way to celebrate the holiday.
Many pets are allergic to bug bites, bee stings, etc. Keep allergy medications in your pet first aid kit and check the dates to make sure they are still usable.
After a difficult winter, we all look forward to the mellow days of spring, so enjoy them!