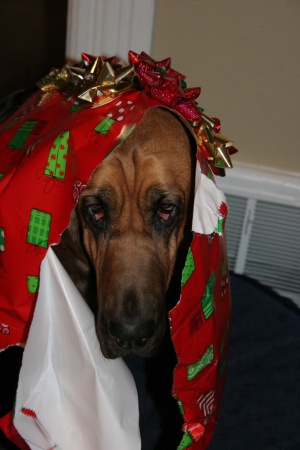 Because December is the holiday for gift giving, it has also been designated as Safe Toys and Gifts Month. Although this holiday usually refers to buying safe toys for children, it is of course relevant to pets as well.
Some considerations when buying presents for your pet or someone else's pet:
If the pet is allergic to certain foods, check the ingredients of the edible gifts you buy to make sure they are not included.
Edible gifts need not contain dyes. They may be unhealthy and/or may stain the carpet or floors. And pets don't care what color their treats are as long as they taste good!
It's not the best idea to buy chew toys which resembles real objects in the house. A dog will not be able to tell the difference and may destroy important items such as the kids' stuffed animals or your shoes.
Cheap and flimsy toys can be dangerous to pets if a piece breaks off and is swallowed. Stay away from thin rubber and mylar ribbon.
Gift wrapping can pose dangers to pets as well. Don't leave around wrapping paper or ribbons which can be swallowed.
Check toys before giving them to a pet to make sure there are no tags or other dangerous items attached.
Consider buying toys manufactured locally and not overseas where quality is harder to control.
Related articles: