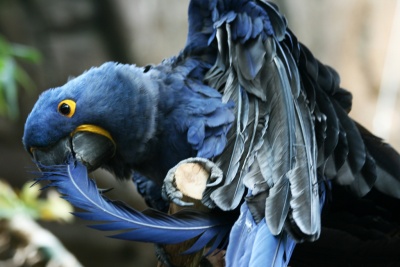 Why Birds Preen
Both domestic and wild birds engage in preening several times a day. Preening is a process where birds remove dust, dirt and parasites from their feathers and align each feather in the optimum position relative to adjacent feathers and body shape. The uropygial gland, or preen gland, produces an oily substance which helps waterproof the bird's feathers. Preening also causes the feathers to appear more attractive to a mate. Birds will preen each other as part of a mating ritual.
How Birds Preen
When we think of preening, we usually think of birds using their bills and feet to nibble and stroke the feathers. Birds will sometimes contort themselves into very strange positions as they preen. There are a number of other ways birds preen. Some birds, particularly game birds and sparrows, take dust baths in order to dislodge parasites and absorb excess oil. Sunning moves parasites to other parts of the body so they can be nibbled off. Some songbirds bathe in water before they preen with their beaks to remove dust, dirt and parasites. Stretching and fluffing separate the feathers before preening and help align them afterward. Some birds lay on anthills or spread ants on their bodies in order to distribute formic acid on their feathers. This is believed to inhibit certain parasites which can damage the feathers.
Preening Your Bird
Birds don't usually need any help preening, but there is one situation in which they do. Birds molt their feathers about once a year. The feathers fall out and new ones grow in. When birds grow new feathers they will be unable to reach the ones on the back of the neck by themselves. Gently scratch the neck to find feathers with a white part. The feathers which don't have a white part are not ready to be preened and doing so will hurt the bird. Rub the feather lightly between your index finger and thumb or rub your nail on it lightly.
Video
Related Articles