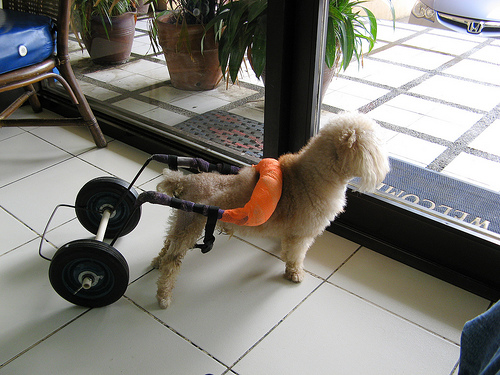 Sometimes our beloved companions suffer illnesses, accidents or just the infirmities of old age. There are aids available to ease their pain and discomfort. There are also many safety supports and healing supports for pets.
The cruciate ligament helps to hold the knee joint together. When this ligament is torn there is pain and swelling and the dog becomes lame. The A-TraC Dynamic Brace, a product of WoundWear, is one brace that aids in healing the limb and joint and can also be used after surgery. Check WoundWear.com.
WoundWear also offers a Full Body Suit or Frontal Suit to protect surgical and non-surgical wounds on the dog's torso and neck.
K9 Dog Orthopedic Braces offers braces, splints and prosthetic for dogs.
HandicappedPets.com has a host of products to aid you pet's healing and comfort in times of distress. For dogs that have back or hind quarter problems there are pet wheelchairs, some custom-made, lifting harnesses, slings or leashes to raise the hind quarters when walking, backs and hip braces, indoor/outdoor ramps and steps to help your pet get in and out of cars, climb into bed, get in and out of the pool safely.
There are different types of collars available from cones to no-cones which prevent your pet licking or biting wound areas.
For incontinent dogs, diapers come in different sizes and styles for both male and female pets. There are special needs beds for incontinent dogs that will keep your pet dry and your floor and carpet clean.
There are many different types of beds to soothe aches and pains, some to keep your pet cool in summer and warm in winter.
A Hot and Cold Therapeutic Vest comes with hot or cold packs to ease aches and pains.
There are pet boots to prevent damage to paws when out walking. And a portable doggie air conditioner for travel or home crating.
A dog helmet is available to protect a blind dog from head injury.
You can find pet harnesses, seat belts, safety seats, hammocks, flotation vests for car or boat trips.
And what does a well-dressed dog wear in rain or snow or cold weather, but coats and body suits made for ease of movement and protection from the elements.
Every pet owner should have a Pet First Aid Kit for emergencies.
Before using any product, check with your veterinarian to make sure you are choosing the proper equipment for the specific problem your pet may have.
Related Articles