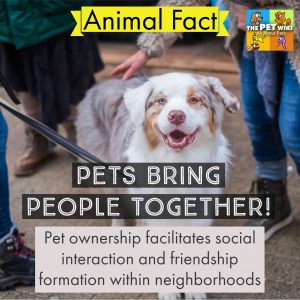 As pet lovers, we all know the positive impact sharing our lives with them has on our health. And in a recent study, pets have shown once again, their ability to bring people together [1].
While we have so many conveniences that purport to make our lives easier, we seem more busy than ever, and don't have time to stop and smell the roses. Some of us barely know our neighbors except to say a quick hello on the way to the car. Enter dog walking.
Professor Lisa Woods at the University of Western Australia's School of Population Health led a study to determine what further impact pets had on interaction between people. It was a telephone survey which included 2500 people in 4 cities – San Diego, California, Portland, Maine, and Nashville, Tennessee in the United States and Perth in Australia. The results, not surprisingly, were that many friendships were formed, some lasting, while out walking the dog. Of course, once conversations began, people included any other pets that are part of their family. Pets are the ice breakers between people that were once strangers to each other.
Mama Iris's Experience:
I can thank a cat named appropriately, "Cat Cat" interacting with my son for introducing us to my BFF. It happened almost 45 years ago and although separated by an ocean now, we speak regularly by phone.
I was taking my son to the park across the street from our apartment complex when he spied a cat in a window and stopped to talk to her. But that wasn't enough for my mischievous little boy and while talking to the cat's human, Susan, my son proceeded to quietly open the window. Needless to say Cat Cat ran out, but fortunately her taste of freedom was cut short when Susan managed to get her back inside to safety. I apologized profusely, explained to my son why that was a no-no and Susan and I continued talking. I invited her back to my apartment for coffee and to our delight, she brought along her 2 poodles, Daisy Mae and Honey Bee, mother and daughter.
I've had similar experiences when walking my dogs. People who would ordinarily just pass by would stop and strike up a conversation about the dogs. We would have otherwise missed these friendships that pets brought us.
We're sure you all have stories to tell about making lasting friendships because we're lucky to have pets. We'd love for you to write in and share your stories with us.
Sadly, some friendships were formed through our pets' illnesses. Though we've never met in person, some of us who belong pet cancer groups or other pet groups, have developed caring and wonderful friendships. We were brought together fighting for our pets' lives and have remained supportive and loving even after our pets have crossed the Rainbow Bridge.
Sources: