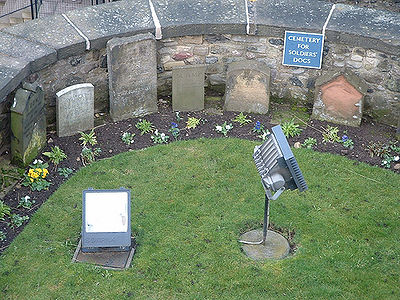 When a pet dies, the owners must decide on final arrangements. There are a number of options:
Cemetery Burial
Communal Burial
Communal Cremation
Individual or Private Cremation
Home Burial
Why Bury a Pet in a Pet Cemetery
Burial in the backyard is more intimate,allowing the owners to decorate the grave however they want and visit it often. However, for those wishing for a more formal burial, a pet cemetery is an excellent choice.
Although burial in a cemetery is more expensive than a backyard burial, the grave will still be accessible even if the owners move to a new home. And the cemetery land is set aside for burial and can't be disturbed by land development.
Also, pet cemeteries provide services such as walking the owner through the whole process from choosing the plot, to selecting the casket, and planning of a graveside service. More importantly, they will handle the remains. The remains can be turned over directly from the vet to the cemetery, releasing the owner from a difficult and painful task.
Some local laws prohibit burying pets on private land, due to the health hazards when other animals try to dig them up. This is another reason to choose burial in a pet cemetery.
How to find a pet cemetery in your area
There are pet cemeteries in virtually every populated area of the United States and Europe. The International Association of Pet Cemeteries and Crematories lists many pet cemeteries. According to its website, there are 400 reputable pet cemeteries in the United States. Cemeteries in the UK and Europe are listed on the website of The Association of Private Pet Cemeteries and Crematoria.
Related articles: