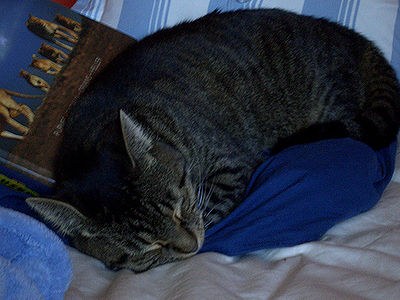 The New York Times reports that a growing number of colleges are opening up their dorms to students with pets. The Massachusetts Institute of Technology, Stephens College in Columbia, Mo., the State University of New York at Canton, Eckerd College in South Florida and Washington and Jefferson College in Pennsylvania all have dorm rooms that accommodate pets.
Some students bring their pets in order to make the process of leaving home easier. Others don't have anyone to leave their pet with while they are away.
Supporters of pet-friendly colleges say the pets help ease the transition for new students, teach responsibility and organization and help relieve stress (especially during finals!). Detractors say students will hole up with their pets and not socialize, that pets may be treated irresponsibly (such as being given beer to drink at parties) and might actually lengthen the period of adjustment.
Another problem associated with pets at colleges is that many students abandon the pets before they go home for the summer. Some colleges have solved this problem by only allowing animals which have lived with the student for at least a year. Other colleges allow students to foster an animal from the local shelter. At the end of the year, if they are unable to take the pet home, it goes back to the animal shelter.
Some colleges have set up Pet Councils made up of students and faculty which enforce strict guidelines for the pets on campus. Pets are allowed in dorm rooms but not in common areas or classrooms. Pets must have all the required vaccinations and be treated responsibly by the student.
Stephens College provides each student with a pet a single room in a dorm dedicated to pet owners. The dorm has a fenced-in yard and a doggie daycare run by students. Because Stephens is a small school, the administration can keep an eye on the students and their pets, thus ensuring responsible pet ownership.
External links: