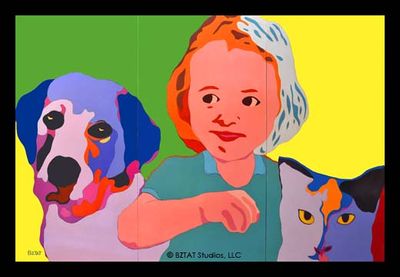 Okey's Promise is a public art project created by artist BZTAT. It's purpose is to make everyone aware of the connection between mistreatment of animals, child abuse and domestic violence.
Studies have proven that when harm is inflicted on animals, abusers turn their violence against children and women.
Okey's Promise is named in honor of the cat rescued by the artist. BZTAT completed the first of 6 projects in July of 2011. The mural, named "Safe Animals Safe Kids" was dedicated August 5, 2011 in Canton, Ohio. Funding to develop the projects is obtained through Kickstarter.com.
BZTAT, aka Vicki Boatwritght is well known to the international pet blogging community. Her stylized drawings, paintings and prints of animals are unique, creating a portrait of the animal's personality as well.
Vicki also creates murals and other artworks that address a variety of themes.
Vicki earned her Bachelor of Fine Arts Degree and a Master of Arts Degree in the visual arts from Marshall University in Huntington, West Virginia and a Masters Degree in counseling from Marshall University.
As well as being an accomplished artist, Vicki has worked as a child and family therapist since 1991.
On a personal note, my daughter commissioned Vicki to create a painting of some of the dogs, 8 to be exact, whom I have shared my life with. Vicki has captured each one's special personality in her likenesses of them. I cannot thank my daughter or Vicki enough for this extraordinary gift that I will treasure always.
The name that Vicki signs on her artwork, BZTAT, was the name of her feline companion who was an artistic inspiration to her for 19 years.
To help BZTAT in her efforts to make people aware of abuse against animals, children and women, please go to Kickstarter.com. And visit BZTAT on Facebook.
Related articles: