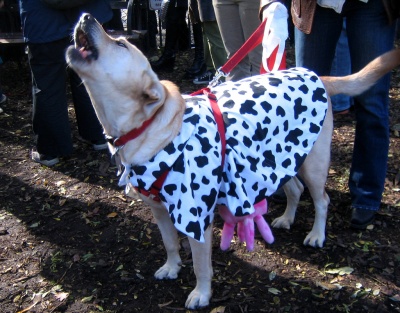 A particularly fun animal holiday is National Dress Up Your Pet Day, celebrated on January 14. This is a great opportunity to show off your furpal's great looks and personality.
When choosing a costume, safety comes first. Costumes should not have parts that can cause injury or choking. The costume should fit well, not too tight or too loose. Some pets really don't enjoy dressing up, so take this into account too and don't force anything on them. Choose a costume which is appropriate for your pet's breed. Dress a Doberman in a biker hat or your Bichon Frise in a pink sweater. A Persian cat will look regal in a studded collar. Costumes should be weather-appropriate too. If you live in the Southern Hemisphere, January is not the time for fuzzy hats and scarves. Think sun visor and glasses.
Once you've made the effort to dress up your pet, take him out for a walk in the park or on the city streets to show off the get-up. Consider memorializing the day with a photo shoot. You can do it yourself or hire a photographer. A fun way to remember the day is to make a photo book using one of the many services available online (such as Snapfish). Another creative way to celebrate the day is with a costume party. Invite your pet owner friends and ask them to come in costume too! If you run a pet-related business or non-profit, why not hold a costume contest for pets? Give prizes for most original costume, best-dressed, silliest etc.
National Dress Up Your Pet Day is one of those holidays which is all about good old-fashioned fun, so be creative and have a good time!
Video