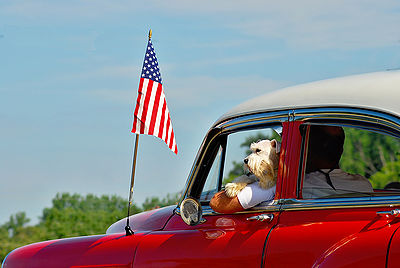 Holidays like July 4th, American Independence Day, are the perfect times to get together with friends and family. Wherever we are, the aromas of traditional BBQs are present. And of course, many of us like to include our furry friends in the celebration. But we don't want to get so caught up in the festivities that we neglect to see to the safety of our 4-legged pals.
Here are some tips to keep the day safe and enjoyable for our pets.
Remind friends and family not to feed pets no matter how much they beg for food – you will handle feeding them.
Use only sunscreen or insect repellent that is specifically for pets.
When the BBQ is left unattended, keep it covered so that curious noses and paws are kept off.
Don't give your pet any alcoholic or sugary beverages either. Remind visitors to keep their drinks and bottles where pets can't reach them.
Don't leave corncobs where they can be reached. When chewed they can cause choking and blockages.
Keep matches and lighter fluid away from pets and out of their reach.
Place citronella candles and any type of electrical insect zapper where pets can't reach them.
Do not set off fireworks near your pet.
If you have a pool, don't allow your pet in it unless you are there to supervise all the while the pet is in the pool. Better yet, have a fence and gate around your pool so that your pet can't get in on his own accidentally. It will keep children safe too.
Keep all trash, especially bones out of the reach of pets.
If you plan on setting off fireworks or going out to see fireworks, keep your pet at home in a safe, quiet room in the house, with the door closed. Pets often become stressed and nervous by all the noise and look for escape routes.
Keep a collar and ID tag on your pet at all times. Include the pet's name and your telephone number.
The ASPCA advises that glow jewelry can pose a danger to pets.
Cats should be kept indoors during this holiday. They can become particularly stressed with all the noise and activity. Keep the cat in a comfortable, quiet room with treats, toys and a water bowl.
After you've seen to the safety of everyone, it's time for you to sit back and enjoy the company of all your loved ones.
Related articles