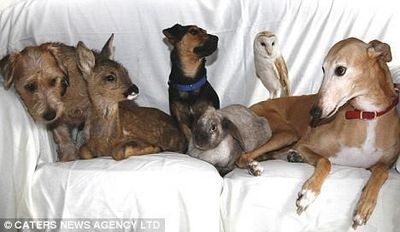 Dr. Ihor Basko, a holistic veterinarian and expert on natural pet care, practicing in Hawaii, said this: "Animals come into our lives as gifts from God, for companionship, to teach us and to heal us. They deserve our very best efforts in caring for them."
This is a true story worthy of retelling, how a dog named Jasmine teaches us a life lesson.
In Warwickshire, England, in 2003, police found a dog locked in a shed, abandoned and whimpering. The dog, a female greyhound, was taken by police to the Nuneaton Warwickshire Wildlife Sancuary run by Geoff Grewcock. The Sanctuary accepts all types of animals in need.
The dog was dirty, had been abused and was starving. Geoff and the staff of the Sanctuary labored to bring the dog back to health and restore her trust in humans. While it took several weeks, they accomplished their goals and prepared Jasmine, as they had named her, for adoption.
But it seemed Jasmine was reluctant to leave and was content to remain at the Sanctuary. She began welcoming any and all animals arriving there.
She cudddled and licked and kissed and cared for all the animals. It didn't and doesn't matter what kind of animal – rabbits, guinea pigs, fox, badger cubs, birds perching on her head – Jasmine welcomes them all and the animals in turn respond to her kindness and affection and are not as stressed by their experiences.
Jasmine became the surrogate mother and one-dog welcoming committee to all of these abused, abandoned, orphaned animals.
Jasmine appears to be very attached to Bramble, a tiny deer found in a field nearby. The two are inseparable, but Bramble will be returned to the woods when she is old enough.
But Jasmine won't have time to be lonely or to miss her friend. She will have many more animals to shower with love and affection.
Perhaps we can all learn a lesson from Jasmine about loving and caring for all of God's creatures.