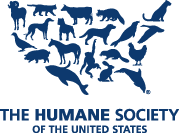 The HSUS works continually to strengthen existing animal welfare laws and fight for more animal rights and protection laws.
Wayne Pacelle, President and CEO of HSUS, chose these 10 laws passed in states during 2012 as representing important steps in animal rights.
1. California banned the cruel "sport" of hound hunting of bobcats and bears, protecting these animals as well as the dogs that are forced to hunt them.
2. Rhode Island passed legislation to phase out the use of gestation crates and veal crates, also outlawing tail docking of cattle without anesthesia.
3. Ohio became the 44th state to restrict ownership of dangerous exotic animals.
4. Illinois joined California, Hawaii, Oregon and Washington in banning the shark fin trade.
5. Idaho became the 48th state to enact felony penalties for cockfighting and other forms of malicious cruelty.
6. Arizona enacted a law to end live dog racing in the last remaining Greyhound racetrack in the state, thus protecting Greyhounds.
7. Minnesota became one of many states banning the sale of shelter pets to laboratories.
8. New Jersey joined California, Illinois, Oklahoma and Texas banning the slaughter of horses for human consumption.
9. Louisiana stopped sales of pets from roadsides, protecting dogs from reckless breeders and other problems.
10. New York limited live animal slaughter markets, extending the existing 4 year moratorium. Licenses are not to be given to any markets built within 1500 feet of a residence in New York City.
The HSUS will continue its work until all animals are treated humanely and with the respect for their well-being as they richly deserve.