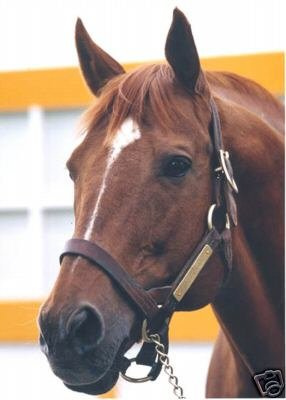 The opening of the Disney film about triple crown winner, Secretariat, has spurred even more interest in horse racing.
Secretariat and other stars of horse racing have led exceptional lives. They have been cared for and coddled and when their racing careers are over, they are retired and usually put out to stud. Some find other careers as jumpers, in dressage or used for pleasure riding. But these are the lucky ones.
Wayne Pacelle, President and CEO of the Humane Society of the United States, in his Humane Nation blog, reminds us that "not all race horses have a Hollywood ending."
Mr. Pacelle continues telling us that horse slaughter is legal in the United States. Thousands of trusting animals are sold to foreign slaughter plants and butchered for food.
There are no guarantees that any race horse won't meet this fate, betrayed by the very people on whom they depended for their lives.
Mr. Pacelle also tells us that there are responsible race track owners and trainers who try to improve track conditions and reduce risk to the horses. There are tracks that will not allow injured or drugged horses to race and ban any trainer who sells horses for slaughter.
But sadly, too many of these magnificent creatures find themselves ill-treated and/or sold and butchered.
There are a number of horse rescue groups who try to rescue as many of these horses as they are able to and find loving, caring homes for them. To name a couple, Heaven Can Wait Equine Sanctuary, Californian Thoroughbred Breeders Association (California Equine Retirement Foundation).
We can contact our legislators to write laws to protect horses, to prevent overbreeding, to ban selling to foreign slaughter houses.
The Humane Society along with similar organizations work continuously to try to prevent these tragedies from occurring.
Related articles: