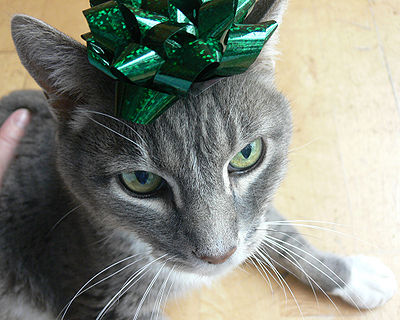 The Holidays are almost here and celebrations and shopping for gifts is in the air. We pet lovers want to include our furpals in the festivities, so here are a few ideas for pet presents.
If your dog is a "terminator" who destroys toys in a matter of minutes, try some of these:
Orbie-Tuff Orbie Ball, Everlasting Fun Ball, Treatstik (stuff treats inside), Kong toys, Airobee Dogabit Discs, JW
Treat Tower in 2 sizes. Chekit Utility 3-Point Safety Harness which passed federal safety standards for child safety restraints on a 30 mph frontal crash. This harness can be used for walking too.
Sunbeam makes a Gourmet Treat Maker. You mix 'em up and bake your own treats in the treat maker.
Priscilla's Kitty Grass is an all natural healthy product. Grow this treat in a pot for your cat.
Thundershirt will calm your nervous cat.
Cats love drinking running water. Try one of Drinkwell's variety of fountains.
TSPs Fast Pass Leash and Harness for safe travel with your cat.
ShedMonster safely removes loose hairs from your cat's coat.
Don't forget your bird, horse and your small pets at holiday time. Check out your local supplier or pet shop for any new toy offerings.
Treat yourself or a friend pet-lover to a subscription to one of the many pet magazines available such as Dog Fancy, Cat Fancy, Catster, Dogs Naturally, Whole Dog, The Horse, Reptiles, small animal magazines and so on.
Check all your pets' current toys and other accessories including bowls and beds to see if anything needs replacing.
And don't forget to ask your friends to join us here at The Pet Wiki. We'll answer your questions and try to give you the best information to help with your pets.
Happy Holidays to all!