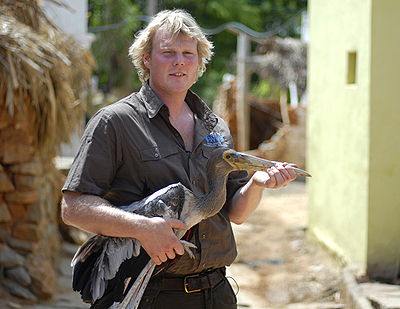 James Herriot was the pen name of James Alfred Wight, a Scottish veterinarian who was born in 1916. In 1969 Wight wrote If Only They Could Talk, the first of the now-famous series based on his life working as a vet. This book and some of his other stories were collected in a book called All Creatures Great and Small, which was later made into a film.
Louis J. Camuti (1893/4-1981) was the first vet to devote his entire practice to cats. He practiced veterinary medicine in New York for 60 years, making frequent house calls. He wrote two books: All My Patients Are Under The Bed: Memoirs of a Cat Doctor (1980) and Park Avenue Vet (1962). He was still practicing medicine at the time of his death at the age of 87. He had a number of celebrity clients, including Olivia de Havilland, James Mason, Imogene Coca and Tallulah Bankhead.
Baxter Black is a large-animal vet, cowboy and poet. Although he trained as a vet, at one point the company he worked for let him go. He was writing poetry on the side and speaking engagements kept coming in, so he did not go back to practicing medicine. Much of his writing is about animals.
Lolly Cochran is a Massachusetts horse vet. Liza Ketchum Murrow published a biography of her in 1989, describing her childhood, schooling and training, daily work schedule and duties at her Massachusetts clinic, and the obstacles and challenges she faces as a woman scientist.
Luke Gamble is the star of a Sky documentary series of his travels around the globe to help animals in need. He is a vet from Dorset, England, who works with organizations and individuals in remote locations. The series was called The World Wild Vet, now renamed to Vet Adventures .
Harry Cooper is a famous Australian vet and TV personality. He was the resident vet on a series called Burke's Backyard, and went on to host two shows, Talk to the Animals and Harry's Practice. He currently presents a segment on Better Homes and Gardens and is a public speaker and animal welfare advocate.
Emma Milne is a British vet who has appeared on a TV show called Vets in Practice. She is an outspoken opponent of hunting and featured on a website called Emma the TV Vet.
Dr. Paul D. Pion is credited with discovering the cause, cure and prevention of Feline Dilated Cardiomyopathy. As reported in 1987, Dr. Pion first discovered the CDM was caused by a deficient amount of the amino acid Taurine in commercial cat food. Dr. Pion is the President and co-founder of Veterinary Information Network (VIN) that provides online up-to-date infromation for veterinarians. Dr. Pion's discovery of taurine deficiency marks and outstanding contribution to saving the lives of cats.
Related articles: