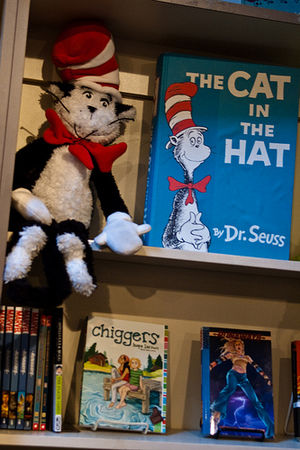 Many cats, the large varieties and pets, have become household names through their appearances in books, movies, TV, commercials. How many of these cats do you recognize?
Books and Comic Strips
Cat in the Hat
Hobbes
Pink Panther
Puss in Boots
The Three Little Kittens
Cheshire Cat
Tweety Bird
Tigger
Tom (and Jerry)
Milo and Otis
Garfield
Movies
"Breakfast at Tiffany's" – Holly Golightly's cat, Cat
"Stuart Little" – Monty the tabby
"Garfield the Movie" – Garfield
"Cinderella" – Cinderella's stepsisters' cat Lucifer
"The Aristocats"
"Lady and the Tramp" – Si and Am, the 2 Siamese
"Harry and Tonto" – Tonto, the cat
"Oliver and Co." – Oliver the cat
"Pinocchio" – Figaro
"Homeward Bound" – Sassy, the Himalayan
Other Well-Known Cats
Socks – a black and white stray rescued by Chelsea Clinton
Dewey – a library cat left as a kitten in the book return slot. An inspiring story of a cat whose life touched the world.
Baker and Taylor – two Minden, Nevada Scottish Folds living in the town's library
Precious, a Himalayan/Persian white cat who lived with her owners one block from the World Trade Center and survived on the roof of her house for 18 days until her owners were allowed to return and found her after the tragedy of September 11th.
Scarlett, who in 1996 rescued her 5 kittens, one at a time, from a burning building in Brooklyn, NY. The book, "Scarlett Saves Her Family" tells of her adventures. Only 4 of the 5 kittens survived and Scarlett went to the Rainbow Bridge in 2008.
Morris, the orange tabby spokescat for Purina's Nine Lives cat food where he was known as "the world's most finicky cat". Morris also appeared in movies and books. The Morris Animal Foundation, named after him, through donations funds research and helps with protecting, treating and curing animals all over the world.