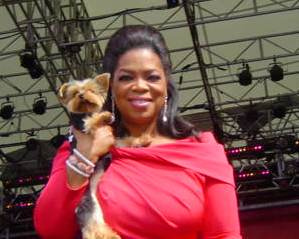 Celebrities live their lives in the public eye and so do their pets. Some famous pet-lovers are:
Martha Stewart has adopted four Chow Chows: Zu-Zu, Paw-Paw, Cin-Cin, and Empress Woo; and seven Himalayan cats: Teeny, Weeny, Mozart, Vivaldi, Verdi, Berlioz, and Bartok.
John Lennon had an obsession with cats. John and Yoko Ono shared their New York home with a black and white pair called Salt and Pepper.
Oprah Winfrey raises Cocker Spaniels Sophie and Solomon and Golden Retrievers Luke, Layla, and Gracie.
Jessica Simpson carries Daisy, a Maltipoo (Maltese–poodle)around in her handbag.
George Clooney had a potbellied pig named Max for 18 years, until he died of natural causes. He received him as a gift and used to take him to movie sets. Clooney has no plans to replace him with another pet.
The best man at Adam Sandler's 2003 wedding was an English Bulldog named Meatball, dressed appropriately in a tux and yarmulke. Meatball died of a heart attack and Sandler is now caring for another bulldog, named Matzoball.
Tori Spelling has two dogs and two cats and helps run Much Love, an animal rescue foundation that finds families for homeless pets.
Alicia Silverstone has five dogs, all rescued. She is a spokesman for the charity PETA (People for the Ethical Treatment of Animals). She discovered her dog Samson in East L.A. cut and bleeding, while shooting the detective thriller "True Crime".
Country star Carrie Underwood donates to the Bideawee Manhattan Animal Shelter. She owns a Chihuahua named Ace.
Drew Barrymore and her then-fiance, Tom Green, were saved by their lab–chow mix dog, Flossie. Flossie woke up Tom and Drew and alerted the pair to a house fire in February, 2001.
David Boreanaz was discovered by his agent while walking his dog, Bertha Blue, in Hollywood.
Nat Geo Wild network's wildlife expert Casey Anderson, chose his pet grizzly bear, Brutus, to be best man at his wedding. The bear weighs 900 pounds and eats 40 pounds of food each day. He has started a bear sanctuary called Montana Grizzly Encounter.
Rachael Ray uses her celebrity status to bring attention to homeless animals and the rescues that help them through Rachael's Rescue. She received the "Excellence in Journalism and Outstanding Contributions to the Pet Industry Award" from the American Pet Products Association and Pet Industry Distributors Association. She has her own line of dog food, Nutrish (from which all proceeds benefit animals in need).
Ellen DeGeneres has always loved animals and raises two dogs, a poodle named Mabel and a Maltese-poodle named Wolf. She also has three cats, Charlie, George, and Chairman. She uses her TV show to promote animal rights and encourage rescue. Ellen is part owner of the all-natural pet food company Halo Purely for Pets.