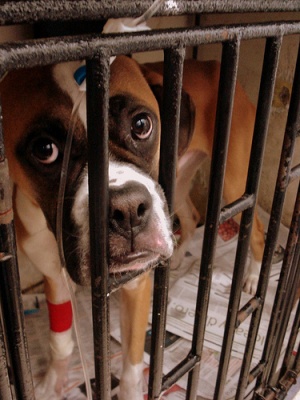 Dr. Demian Dressler of the Dog Cancer News blog, informs us that there is new technology in the area of brain cancer.
Dr. Dressler further states that brain cancer is one of the most difficult to fight due to "the blood-brain barrier." These are tiny blood vessels, capillaries, that form bunches and don't allow things to pass from the blood into the brain.
The Animal Specialty Center in Yonkers, NY, has the only Cyberknife for pets in the United States. The Cyberknife is an instrument that emits large doses of radiation targeting the tumor while surrounding healthy brain tissue receives little radiation.
On the horizon, there are two other treatments that may be applied for veterinary use.
A Tumor Treatment Field (TTF) made by Novocure is a headpiece that creates an electrical field across the tumor site.
At UC Davis there is an experimental treatment for brain tumors. A device is implanted allowing a chemotherapy agent to be injected directly into the brain bypassing the blood-brain barrier.
Dr.Dressler reminds us that chemotherapy does not cure cancer in dogs, but can increase lifespan and quality of life. Dr. Dressler advises the importance of seeking the advice of a qualified oncologist who is very knowledgeable in the field of canine cancer treatments.
I highly recommend Dr. Dressler's book, "Dog Cancer Survival Guide: Beyond Surgery, Chemotherapy and Radiation." It contains valuable information, priceless in the fight against canine cancer.
Related Articles