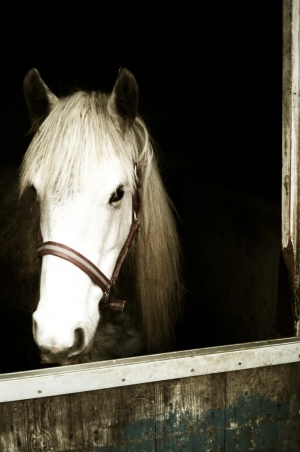 If you don't have space to keep a horse, boarding your horse is an excellent option. Even if you have the space, you may choose to board him anyway. Let's take a look at some of the pros and cons of boarding a horse.
Advantages of boarding
When you board, you have access to more facilities than you have at home. This might include an indoor arena, wash stalls and tack rooms. An indoor arena is a great advantage if you want to be able to ride even when the weather is bad. You may also have access to trainers and riding instructors.
Boarding means that there is someone else to take care of the day-to-day feeding, grooming and cleaning. This frees you up to spend all your horse time exclusively on enjoyable pursuits. In addition, you can easily go on vacation or take a few sick days without worrying about your horse's care.
Supplies such as hay, feed and bedding are made available to you. You don't have to worry about purchasing and transporting these items.
Boarding is very social. You can hang out with people who share your passion for horses and this widens your experience. And your horse gets to socialize with other horses as well.
You can save money by sharing vet bills between several boarders.
Disadvantages of boarding
Boarding can be costly. You are paying for the care you get as well as for the facilities. Stables will often charge more for any extras such as giving your horse supplements or putting on and removing blankets. Keep in mind, though, that when you board you pay a set monthly amount. When you keep your horse at home, costs will fluctuate.
Boarding facilities have policies regarding the care they offer. This means you have limited input in how your horse is cared for. In addition, some barns require you to use their farriers, instructors and vets.
You have to go somewhere to see your horse, and can't visit and ride any time you feel like it. Turnout time might be the same time it is convenient for you to ride, or the barn and riding ring might be closed for certain hours.
With your horse farther away, your relationship will also be more distant. You will miss out on knowing every detail of his preferences and activities. It will also be harder for you to spot problems promptly. However, if the staff at the stable is extremely diligent, they may pick up on problems quicker than you would.
The chances of your horse catching an infectious disease are higher if he is boarding with a large number of horses.
A third option which some people find to be the best of both worlds is barn sharing. In this scenario, several horse owners keep their horses in one barn, sharing the chores and the expenses. This arrangement is less costly and allows for more control, while sharing the responsibilities. This option can only work if all the people involved are responsible and respectful of each other.
Related articles: