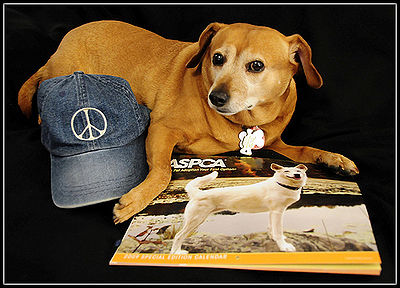 The 2013 ASPCA Humane Awards luncheon was held in New York City November 21st. The awards are given to animals and people who have made a positive and lasting impact during the year.
The ASPCA Cat of the Year is Koshka, a stray. Koshka and Staff Sgt. Jesse Knott found each other in Afghanistan where Jesse was based. Koshka remained at Jesse's side throughout his hitch bringing him comfort. Jesse's parents helped him bring Koshka home with him to Oregon and a happy, loving life.
The ASPCA release of Koshka's story is: "…Koshka was a stray when she struck up a friendship with Staff Sgt. Jesse Knott at a base in Southern Afghanistan. To Knott she was a pleasant reminder of life at home in far away Oregon. When a suicide bomber attacked a nearby military convoy, killing 2 of his close friends, Koshka stayed by Knott's side, helping him through one of his darkest moments."
The ASPCA Dog of the Year is a pitbull pup. In Dekalb County Georgia, an animal control officer received a report of a malnourished abandoned dog. Responding to the call, the officer found the puppy near death and brought her to the Dekalb Animal Shelter.
Chrissy Kargynski, one of the Dekalb Shelter's founders, took the dog home to foster. With loving care she recovered prompting Chrissy to name her Xena the Warrior Puppy.
Later Xena was adopted by the Hickey family and bonded with their 8 year old son, Jonny who is autistic. Jonny and Xena have participated in numerous events promoting Autism Awareness, Prevention of Cruelty to Animals and other animal fundraisers.