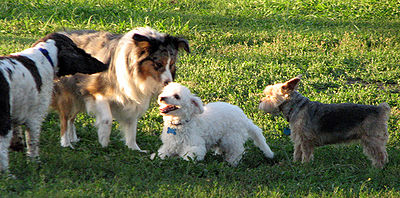 If you're away from home all day, Doggie Daycare may solve the problem of leaving your dog home alone.
Many dogs become stressed when left alone for long periods. They resort to destroying your house or yard and/or barking and howling, annoying the neighbors.
Crate training is one way to handle the situation. But Doggie Daycare is becoming the increasingly popular way to go.
Some Doggie Daycares operate in private homes and accept a limited number of dogs.
Large daycare facilities are usually staffed to handle up to 20 dogs.
Before any facility will accept your dog, you must show proof of up-to-date vaccinations and your dog must be in good health and parasite-free.
Your dog should be able to interact with other dogs without being aggressive.
When you interview the operator of either facility, ask questions. What activities are there to entertain the dogs, indoors and/or outdoors? Are they given snacks, have fresh water always available? Is the staff or individual person trained to handle medical emergencies? Is there a veterinarian on staff or one that can be contacted quickly? Can they handle other situations such as sudden aggression? If your dog is on medication, will there be a problem administering it?
You can find Doggie Daycare Centers either by word-of-mouth recommendations, checking the newspaper ads or the yellow pages.
You know your dog best and can choose the facility you believe your dog will be most comfortable in and happy with. You may want to ask if you can observe the operation for a while to help with your decision. You can usually tell how it went when you pick your dog up at the end of the day.
Be acutely aware of what your doggy daycare is responsible for. If your dog is injured as a result of their negligence or in any instance while at the daycare, will they take responsibility and pay your vet bills? Check the fine print of anything you sign. Will they remedy the situation which caused the injury in the first place? See Dr. Patty Khuly's blog "Fully Vetted." Her article titled "Your Pet: 'One of the Family…Until He gets Hurt?" is an eyeopener.