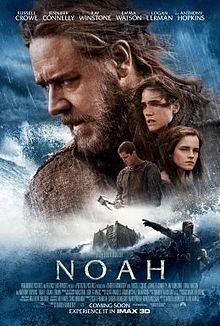 "Noah" a film starring Russell Crowe, is an epic about the biblical tale of the Flood. It is also a story of belief, courage, sacrifice and hope.
The director of the film, Darren Aronofsky, is a recipient of the HSUS Humane Filmmaker Award because instead of using live exotic animals that could be stressed or injured or worse, he chose to use computer-generated imagery in creating the animals on Noah's Ark.
The movie "Noah" and Mr. Aronofsky give true meaning to the phrase, "no animals were harmed during the making of this film." Along with the HSUS we applaud Mr. Aronofsky for using technology, showing the way for other filmmakers that there is a humane method.
"Noah" opens in theaters on March 28th, 2014 in the U.S.. Check online for theater openings in the part of the world where you live. We encourage you to take the family to see this educational and animal-friendly movie.
Having since heard of all the controversy surrounding the movie "Noah" we want to say that our only interest in it is the treatment of animals. As for true biblical content, we find that most movies are lacking.