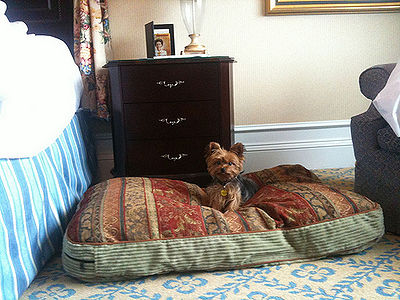 Some cities go all out to create dog-friendly places. If you're thinking of traveling with your dog, Atlanta, Georgia gets a top rating as pet-friendly.
Here are 10 hotels that will accommodate your dog and you. It's always best to call ahead and check if there are size restrictions, if there is a pet fee and of course, to make reservations.
The following hotels have pet fees and/or weight limits:
The Mansion on Peachtree – $100 pet fee/15 lb. limit
The St. Regis – $100 + $25 daily pet fee/20 lb. limit
The Ellis Hotel – $75 pet fee/40 lb. limit
Intercontinental Buckhead – $100 pet fee/25 lb. limit
Loews Atlanta Hotel – $25 pet fee
Ramada – $20 pet fee
Quality Inn – $15 pet fee/25 lb. limit
Hotel Indigo, Hotel Palomar, La Quinta Inn have no pet fees or weight limits.
Decatur, Georgia, just outside of Atlanta has many restaurants and bars with outdoor dining that welcome well-behaved pets. Some even offer doggie menus, water bowls and treats.
Joe's on Juniper is located in midtown Atlanta on Juniper and 11th. The patio welcomes pets and you can drink and dine in a comfortable, cozy setting.
Atlanta is spread out over a large area and has many different neighborhoods to explore.
East Atlanta Village is a great place to take your pet and explore its shops, restaurants, bars and pet-friendly businesses.
The Graveyard Tavern sponsors a "Yuppy Hour" to raise funds for pet rescue groups.
Joe's Coffee is a place where you can relax outdoors with your dog.
The Flatiron Restaurant and Bar offers pet-friendly dining outdoors.
Numerous pet shops are available where you can browse and purchase unique items for pet and home.
There are a number of parks in Atlanta that welcome dogs. Some require your dog to be leashed and all ask you to please remember to clean up after your pup.
Piedmont Dog Park, downtown is an off-leash park.
Park Grounds Coffee is a fenced, unleased park. Pit bulls and pit mixes are not allowed.
Chattahoochee River National Recreational Area is a wooded area and river where your dog must be leashed.
Atlantic Station Dog Park is fenced in and allows off-leash. It's best for small dogs.
Frankie Allen Park – Dogs are welcome on leash in designated areas.
Mason Mill Dog Park – Dogs can be off-leash, but the park is not fenced, so beware.
Woodruff Park – on leash dogs are welcome.
Centennial Olympic Park, a momument to the 1996 Olympic games in Atlanta allows pets on-leash.
If you wish to spend time in areas outside of Atlanta, you can find many dog-friendly areas only a few miles away.
We'd love to hear about your dog-friendly city. Please tell us about the places in your city where pets are welcome.
Related articles: