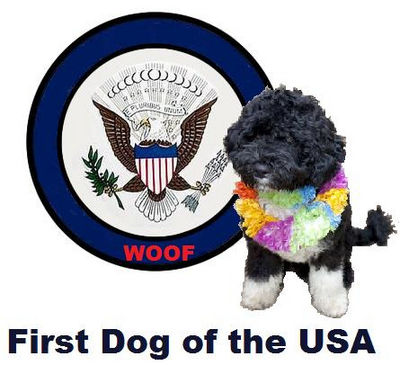 All the U.S. Presidents have had pets except for three. Pres. Barack Obama is no exception to the rule. Shortly after entering the White House, he and his family adopted a six-month old Portuguese Water Dog which they named Bo. The pure-bred dog was given to the Obamas as a gift by Sen. Ted Kennedy and his wife. During his election campaign, the President promised his daughters a dog as a reward for all the time spent on the road.
Some animal rights activists expressed disappointment that the Obamas had not adopted a shelter dog. Others lauded them for taking in a dog who didn't adjust to his previous home. The Humane Society of the United States called Bo a "second-chance dog."
Before Christmas 2009, Bo made headlines by barking at Santa on a First Family (minus the President) outing to the Children's National Medical Center. The First Lady, Michelle Obama, took it in stride, explaining that Bo had never seen Santa before. Also before Christmas, executive pastry chef Bill Yosses fashioned a marzipan model of Bo.
In June 2009, the White House released a "baseball card" for Bo, with his picture on one side and information about him on the other. Some of the fact included are that his favorite food is tomatoes and that he doesn't know how to swim.
When the First Family vacationed in Martha's Vineyard in August 2009, dog lovers organized the first-ever Martha's Vineyard Dog Parade in Bo's honor.
Video: Bo Obama arrives at White House
Video: Obama Shows Off Bo's Handshake Trick (and almost gets tripped by him)
Related articles: