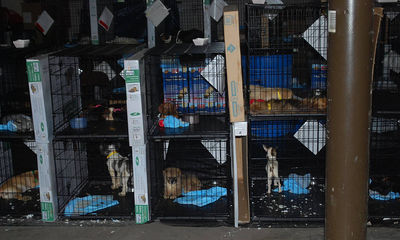 From the HSUS:
The U.S. Department of Agriculture has proposed a landmark rule to require that all large-scale dog breeders be subject to federal inspection to ensure their dogs are humanely treated. But the American Kennel Club, which says it's the "dogs' champion," is working to stall and stop this critical advance for the welfare of dogs.
A new report issued by The Humane Society of the United States shows that the AKC has opposed more than 80 laws and ordinances designed to crack down on puppy mills over the last five years. This includes the landmark USDA rule that would regulate puppy mills that sell dogs direct to the public through the Internet.
Take action now and tell the USDA that, unlike the AKC, you support stronger oversight of Internet puppy mills. Please hurry — this is the last week to submit comments!
Wayne Pacelle, President & CEO
We agree that the American Kennel Club has not always been a champion for dogs. In addition to their opposition to so many laws and ordinances to help dogs, their breed standards pose physical threats to some breeds.